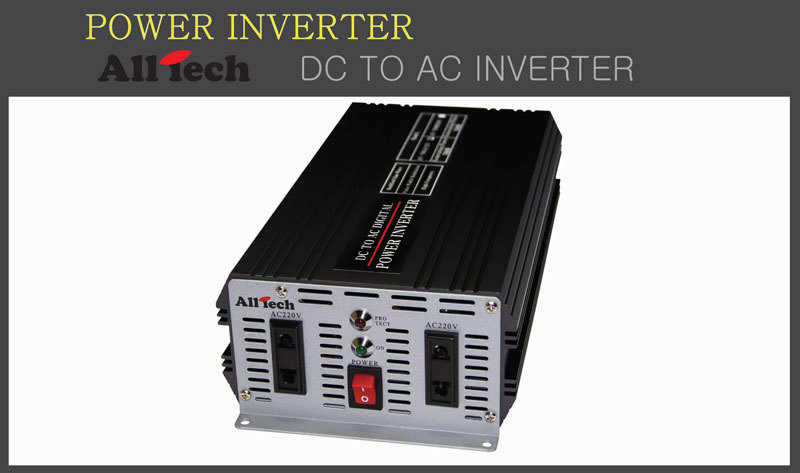 AT series

Stable PWM method

Among the existing inverter drive methods, the PWM method that has been widely used is developed steadily in AC output after DC voltage input
Industrial, solar power, camping, dew point, etc.

Heat dissipation function

Unlike other products that use heaters when using inverter products, increase the heat sink content,
The heat sink is also reinforced. Secondly, by attaching a heat-dissipating fan, the life of the parts due to heat is shortened.
And minimizes the inconvenience of use.

Indicator function

You can check the operation status on the product so that you can recognize the connection status and the product status.
. It maximizes user's convenience such as remaining battery power and actual battery voltage when used.

Product Features

※ It is a breakthrough product that program controls each operating point by microcomputer circuit configuration
※ Because of the improvement of the quality, the normal output
※ When the input voltage fluctuates, stable output power is converted by converting output static pressure within 5%
※ Protect the circuit for 9 seconds up to 3 times of starting output power supply
※ I / O protection circuit automatically protects circuit protection Built-in automatic stop program
※ Designed to operate normally in low temperature and high temperature in external environment
* Stable operation when using electronic products due to AC output noise line filter
※ When the AC output short circuit
Each part name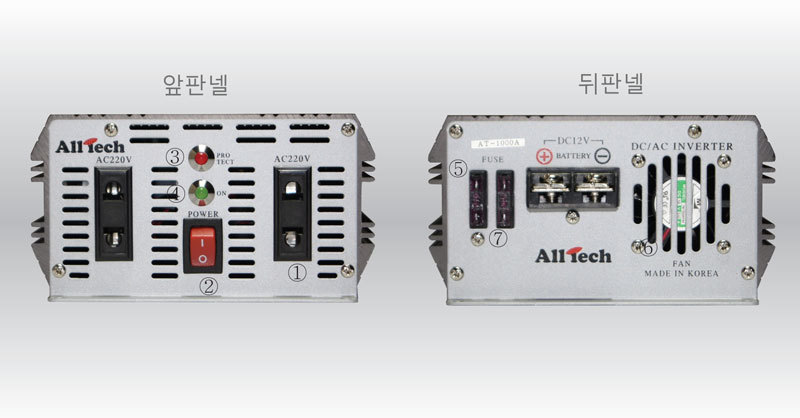 ① Output power (AC SOCKET OUT LET)
② Power switch (POWER SWITCH)
③ Overload protection lamp (OVER LOAD LAMP)
④ Power lamp (POWER LAMP)
⑤ Input power terminal (INPUT 12V or 24V TERMINAL)
⑥ High capacity heat dissipation FAN (FAN)
Components

SPECIFICATIONS/제품규격
Model No./(AT-500B 24V)
Instant Surge최대기동출력
1,500W
Output Power Continuous정격출력용량
500W
Standby Current무부하 소비전력
<400mA
Dc Input VoltageDC 입력전압
21~30V
AC Output VoltageAC 출력전압
220Vac
Regulation출력전압 변동률
±5%
Output Frequency 출력 주파수
60Hz ± 0.05%
Efficiency변환효율
>87%
DC Input Stat VoltageDC 입력 시작전압
23.2V ±0.5%
Low Battery Led & AlarmDC 입력 저전압 LED 경보
21.6V~22V ±0.5%
Low Battery Alarm&Shut-DownDC 입력 저전압 경보 와 차단
21V ±0.5%
Low Battery Return VoltageDC 입력 저전압 복귀전압
27V ±0.5%
Hi Battery Alarm&Shut-DownDC 입력 고전압 경보 와 차단
34V ±0.5%
Hi Battery Return VoltageDC 입력 고전압 복귀전압
33.8V ±0.5%
Over Heating Alarm&Shut-Down과열경보 와 차단
>70℃
Over Heating Return Temperatuer과열 복귀 온도
<40℃
Over Load Shut-Down과부하 차단
500W ±10% (Fuse)
DC/AC IsolatedDC 입력 AC 출력 절연(분리)
Yes
AVR Design출력전압 자동조절
Yes
Output Short Circuit Protection출력전압 합선 차단
Yes
Auto Temperature Control Move자동 냉각팬 동작온도
45℃±0.5%
Auto Temperature Control Shut-Down자동 냉각팬 정지온도
40℃±0.5%
Reverse Polarity ProtectionDC 엽전압차단
Yes (By Fuse)
MECHANICAL
Dimensions(L * W * H mm)제품크기
180 * 120 * 77
Weight무게
1.5kg